Course Outline: What You Will Cover
The field of Nursing & Patient Care Assisting is a rewarding field for those who wish to work in a profession that gives back to those who need it most. Students who enrol into the course will complete the following units of study:
Defining health and wellness
Determinants of health

Illness behavior and the sick role
Health promotion
Defining rehabilitation
The multidisciplinary team

Rehabilitation nursing practice
Defining community nursing
Roles of the community nurse

The family in community health
| | |
| --- | --- |
| 4 | Community Support Services |
| | |
| --- | --- |
| | Other community support services |
Medical Definitions, Prefixes & Glossary
Abbreviations & Acronyms
Using Medical Terminology

Human Systems & Anatomical Divisions
Pharmacology
| | |
| --- | --- |
| 6 | Maintain Patient Records |
Monitor & Review
Accessing Records
| | |
| --- | --- |
| 7 | Maintain Workplace Safety |
Occupational Health & Safety
| | |
| --- | --- |
| 8 | Confidentiality & Privacy in a Medical Environment |
Codes of Conduct
Confidentiality & Privacy
How Will You Benefit?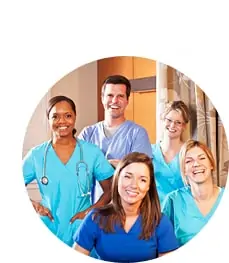 Quickly develop skills in months not years!
Study a nursing assistant course that was designed in conjunction with senior professionals in the profession
Free up valuable time, don't waste time and money travelling to classes
Study at your own pace whenever and wherever you are
Have access to a tutor
Easy interest-free payment plans from as low as $49 per week
Start reaping the benefits by enrolling today!
Career Prospects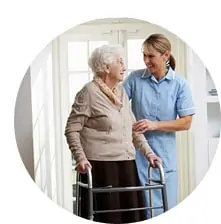 A career in nursing and patient care assisting can be extremely rewarding. Job titles for this career path are typically known as:
Health Care Aide
Nursing Assistant
Patient Care Assistant
A nursing assistant / patient care assistant helps to provide compassionate care to individuals who are not able to fully care for themselves. A health care aide should have:
patience
caring personality
a desire to help people, and
be in good physical condition.
Learning more about becoming a nursing assistant could lead to jobs with:
Residential care facilities
Home carers
Hospitals
Group homes
Home healthcare services
Nursing homes
Under the direction and supervision of nurses and patient support services managers, nursing and patient care assistants will undertake a range of duties which support clinical care. These include cleaning, catering and traditional orderly duties, for example, patient movement and transporting patients to appointments and procedures within a hospital or aged care facility.
Regulation and status of Nursing Assistants in Australia
With further training and experience, students can become enrolled nurses or registered nurses. The ICI Nursing and Patient Care training program is not designed to meet any registration requirements. The program serves to act as a foundation program in this largely unregulated area where nursing assistants work under the direction and supervision of enrolled or registered nurses.
Various titles are used to describe this type of healthcare worker. Similar titles to that of Nursing and Patient Care Assistant include Aged Care Worker (ACW), Personal Care Assistant (PCA), Care Support Employee (CSA), Assistant in Nursing (AIN), Auxiliaries or Auxiliary Nurses, and Health Services Assistant. The term may vary depending on which jurisdiction you reside in. In all cases regardless of the title used the provision of care is delegated and directed under the supervision of a registered nurse (RN).
At the time of publishing of this page, Nursing Assistants belong to the category of non-regulated healthcare workers. Please always check with your future employer to verify the specific training or qualifications they wish you hold in order to seek employment with their organization.
Course Levels Explained
This course leads to the awarding of an ICI Certificate of Nursing Assisting. These qualifications recognise the graduate's capacity for initiative and judgment across a broad range of technical and management functions. Certificate holders typically have personal responsibility and autonomy in performing technical operations or organising others in the workplace.
Prerequisites
There are NO previous work or education requirements for entry into any course level.
Course Length
The average time within which students complete their studies is 31 weeks.
ICI courses allow you to study at your own pace with no assignment deadlines. This means that you determine the pace of the course and within which time period you will ultimately complete your studies in.
Completing your course with ICI is flexible as you can fast-track and graduate in a matter of months. You complete activities and submit assignments whenever you are ready.
The maximum time given to complete a program is three years.
Study Mode: Online Learning
This entire course is carried out via Distance Learning (also known as correspondence learning). Distance learning is ideal if you need to adapt around work, family, or other commitments. It is also extremely beneficial should you simply wish to fast track your studies (and career) and not be locked into a timetable.
Our course content and learning experience ensure that your course is relevant and interesting. Learning, tutorial assistance and assessments take place whenever and wherever you are in the country or world. It takes place at your own pace on your own terms to fit your lifestyle. As an ICI student, you'll never endure a pop quiz, spend countless hours and hundreds of dollars travelling, and never be late with an assignment or for class.
Recognition & Accreditation
This course is recognised and accredited by the International Association of Private Career Colleges (IAPCC) and the International Approval and Registration Centre (IARC). ICI courses are not AQF qualifications. ICI is an independent global awarding body that develops and administers career-related curriculum and training programs. When you graduate from an ICI training program you join ICI graduates in over one hundred and fifty countries around the world.
The courses offered by ICI are written by industry professionals and will assist in fast-tracking you into the new career of your choice.
Various government departments and businesses have enrolled their own staff with ICI for further training and development and are a strong indicator of acceptance and recognition by employers and industry.
The following is a partial list of companies and government departments which have enrolled or sponsored staff into ICI courses:
Department of Defence
State of Queensland
Department of Tourism, Regional Development & Industry
Department of Employment, Economic Development & Innovation
Revenue SA (State of South Australia)
Metcash Trading Ltd Australia (IGA)
Navman Technologies
Catholic Archdiocese of Brisbane
Employment Directions Network / Department of Education & Training
Queensland Compensation
Calvin Klein
John Paul College
Darwin International Airport
Mitsubishi Corporation
Commonwealth Bank
HSBC
American Express
Clayton UTZ
Hennikers Solicitors
Villari Lawyers
UnitingCare
Aviva Australia Holdings,
Uniting Care Institute of Family Practice
Federal Workplace Authority
Centacare Employment Group
Mission Australia
MAX Employment
Gunnebo Australia (Security)
Brookfield Multiplex
Coca-Cola Amitil
Coles Myer Ltd
Already in the Profession or Industry?
This course and qualification is a great way of consolidating existing knowledge via Recognition of Prior Learning (RPL), updating your industry skills and contributing towards your professional development. It is also one of the most practical steps you can take towards working towards gaining a promotion or better-paid position.
Course fees can be claimed as a tax deduction as long as the course is sufficiently connected to your work activities.
What Do I Get?
All materials essential for course completion are included in the cost of the course fee. Upon enrolment, students receive:
All required study materials and course notes
Assignment projects with constructive tutor feedback
A tutor who will service all of your course and career questions.
On successful completion of the course you will receive: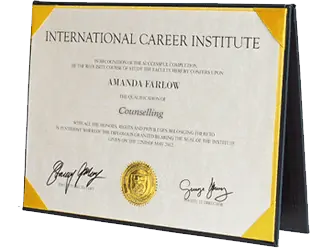 A graduation certificate officially recognizing your successful completion of studies and qualifications
Transcripts indicating units completed
Letter of recommendation and validation for current and future employers
Post-nominal letters placed after your name which indicate that you hold the relevant qualification. For example: John Smith, DipNA
Cut Off Date
Friday, 31st March 2023 is the next enrolment cut off date. Places are limited, in demand and entry into the course is on a first come first served basis.
Your enrolment is processed and acknowledged within 24 hours of the Institute receiving your application. You can expect to receive your course within days of enrolling. When you start your ICI course it's at your own pace and you determine when you finish. Don't miss out. Enrol today!
Course Investment & Payment Plans
How do I get started?
Click on one of the Enrol Now buttons below and you could be working on your first lesson – and towards a new career – in a matter of days!
OPTION A
OPTION B
Course Level
Course Fee
Pay Upfront


Save 10%

Weekly Instalment Plan


Interest Free

ICI CERTIFICATE
$1611
10% Off = $1450 ENROL NOW
$49 x 32 weeks ENROL NOW
Take the first step towards obtaining valuable skills in the field of nursing assisting today.