Course Outline: What You Will Cover
Become a Masseuse! The course provides an opportunity to interact with and learn from very successful, highly qualified and experienced professionals. It also allows you to enter a fast-growing profession with lucrative hourly rates and self employment opportunities. Students will complete the following units:
| | |
| --- | --- |
| 1 | Human Anatomy and Physiology (Structure, Tissues and Systems) |
| | |
| --- | --- |
| 2 | Effects, Benefits, Indications, and Contraindications of Massage |
| | |
| --- | --- |
| 5 | Athletic and Sport Massage |
| | |
| --- | --- |
| 6 | Consultation and Documentation |
| | |
| --- | --- |
| 8 | Provide Aesthetic Aromatic Massage |
Prepare for treatment
Perform aromatic massage
Prepare for treatment
Perform body massage

Apply electrical body treatments
Provide aftercare
| | |
| --- | --- |
| 10 | Provide Superficial Lymph Drainage Massage |
Identify the lymphatic system
Prepare for treatment

Perform lymph drainage massage
| | |
| --- | --- |
| 11 | Use Reflexology Relaxation Techniques |
| | |
| --- | --- |
| | Apply reflexology relaxation techniques |
| | |
| --- | --- |
| 12 | Preliminaries and Draping |
Equipment and Products
The consultation

Draping / Sheet Methods
Positioning and Bolsters
Definition of Massage Classifications

Application of Massage Strokes:

Torch (superficial & deep)
Gliding Movements
Kneading Movements and Petrissage
Friction Movements
Percussion Movements
Stances
Finding Your Centre
Hand Positions
Shoulder Awareness
Applying Deeper Pressure

Table Mechanics
Summary of Body Mechanics
Movement Exercises
Exercises to Counter Repetitive Posture
| | |
| --- | --- |
| 15 | Application of Massage Techniques, Movements & Styles |
Sequence
Step-by-step Procedure for Massage:
Massage of the Face
Massage of the Neck
Massage of the Arm and Hand

Massage of the Feet
Massage of the Front Leg
Massage of the Back
Finishing Massage
| | |
| --- | --- |
| 16 | Business Practices (employment / running your own practice) |
How Will You Benefit?
Fast track your career in massage
Learn the inside secrets of how to become a massage professional in months not years!
Study a massage course that was designed in conjunction with senior members of the profession
Free up valuable time, don't waste time and money travelling to classes
Study at your own pace whenever and wherever you are
Have access to a tutor
Easy interest-free payment plans from as low as $49 per week
Start reaping the benefits by enrolling today!
Career Prospects
More and more people are discovering the power of massage therapy to feel better from the inside. Medical professionals have long recognized massage therapy as a valid, highly effective method of managing all types of tension, stiffness and body pain. On top of that, medical research has proven that aside from pain management, massage therapy also increases flexibility, boosts immunity, improves breathing, sleeping and blood circulation, treats patients with Alzheimer's, lowers high blood pressure and helps ease depression and anxiety. Ultimately it is a highly effective natural therapy that enhances health & well being.
Massage therapists have the wonderful opportunity to build a great career or business for themselves, while helping others relax, feel great and lead healthier lifestyles.
You could also expect to be earning $40 to $60+ per hour in the massage industry.
New spas, massage practices and fitness centres are constantly being opened to serve the growing number of people turning to massage therapy to add an overall feeling of health and relaxation to their lifestyle.
The nature of the massage industry allows for fantastic self-employment and employment prospects. It offers freedom, flexibility and security. Forecasts by the Bureau of Statistics point to strong projected growth in the coming years. Not surprisingly Massage Therapy is today one of the most popular alternative health treatments.
Take the first step towards your career in Massage Therapy by enrolling into a massage course today.
Course Levels Explained
ICI Certificate
This course leads to the awarding of an ICI Certificate of Massage. The ICI Certificate recognises the graduates capacity for initiative and judgment across a broad range of technical and management functions. Certificate holders typically have personal responsibility and autonomy (semi-independence) in performing technical operations or organising others in the workplace.
Prerequisites
There are NO previous work or education requirements for entry into any course level. Graduates can expect higher course levels to result in higher potential salary, positions and skill capabilities.
Course Length
The average time within which students complete studies is:
| | | |
| --- | --- | --- |
| | ICI Certificate Level | 24 weeks |
ICI courses allow you to study at your own pace with no assignment deadlines. This means that you determine the pace of the course and within which time period you will ultimately complete your studies in.
Completing your course with ICI is flexible as you can fast-track and graduate in a matter of months. You complete activities and submit assignments whenever you are ready.
The maximum time given to complete a program is three years.
Study Mode: Online Learning
This entire course is carried out via Distance Learning (also known as correspondence learning). Distance learning is ideal if you need to adapt around work, family, or other commitments. It is also extremely beneficial should you simply wish to fast track your studies (and career) and not be locked into a timetable.
Our course content and learning experience ensure that your course is relevant and interesting. Learning, tutorial assistance and assessments take place whenever and wherever you are in the country or world. It takes place at your own pace on your own terms to fit your lifestyle. As an ICI student, you'll never endure a pop quiz, spend countless hours and hundreds of dollars travelling, and never be late with an assignment or for class.
Recognition & Accreditation
| | |
| --- | --- |
| This course is recognised and accredited by the International Association of Private Career Colleges (IAPCC) and the International Approval and Registration Centre (IARC). ICI courses are not AQF qualifications. ICI is an independent global awarding body that develops and administers career-related curriculum and training programs. When you graduate from an ICI training program you join ICI graduates in over one hundred and fifty countries around the world. | |
| ICI is a CMA College Member and is found on the Complementary Medical Association's Register of Education Providers. ICI has met the expectations of this global organization which represents more than 100 colleges and 15,000 practitioners in the field. (Relevant to: Counselling, Natural Health, Nutrition and Massage courses offered by ICI). | |
Various government departments and businesses have enrolled their own staff with ICI for further training and development and are a strong indicator of acceptance and recognition by employers and industry.
The following is a partial list of companies and government departments which have enrolled or sponsored staff into ICI courses:
Department of Defence
State of Queensland
Department of Tourism, Regional Development & Industry
Department of Employment, Economic Development & Innovation
Revenue SA (State of South Australia)
Metcash Trading Ltd Australia (IGA)
Navman Technologies
Catholic Archdiocese of Brisbane
Employment Directions Network / Department of Education & Training
Queensland Compensation
Calvin Klein
John Paul College
Darwin International Airport
Mitsubishi Corporation
Commonwealth Bank
HSBC
American Express
Clayton UTZ
Hennikers Solicitors
Villari Lawyers
UnitingCare
Aviva Australia Holdings,
Uniting Care Institute of Family Practice
Federal Workplace Authority
Centacare Employment Group
Mission Australia
MAX Employment
Gunnebo Australia (Security)
Brookfield Multiplex
Coca-Cola Amitil
Coles Myer Ltd
Already in the Profession or Industry?
This course and qualification is a great way of consolidating existing knowledge via Recognition of Prior Learning (RPL), updating your industry skills and contributing towards your professional development. It is also one of the most practical steps you can take towards working towards gaining a promotion or better-paid position.
Course fees can be claimed as a tax deduction as long as the course is sufficiently connected to your work activities.
What Do I Get?
All materials essential for course completion are included in the cost of the course fee. Upon enrolment, students receive:
All required study materials and course notes
Assignment projects with constructive tutor feedback
A tutor who will service all of your course and career questions.
On successful completion of the course you will receive: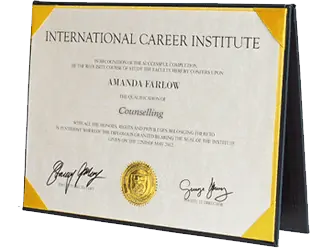 A graduation certificate officially recognizing your successful completion of studies and qualifications as a massage
Transcripts indicating units completed
Letter of recommendation and validation for current and future employers
Post-nominal letters placed after your name which indicate that you hold the relevant qualification. For example: John Smith, DipMsg
Job search assistance: Graduate Career Services Program (Click to learn more).
Cut Off Date
Friday, 31st March 2023 is the next enrolment cut off date. Places are limited, in demand and entry into the course is on a first come first served basis.
Your enrolment is processed and acknowledged within 24 hours of the Institute receiving your application. You can expect to receive your course within days of enrolling. When you start your ICI course it's at your own pace and you determine when you finish. Don't miss out. Enrol today!
Course Investment & Payment Plans
How do I get started?
Click on one of the Enrol Now buttons below and you could be working on your first lesson – and towards a new career – in a matter of days!
OPTION A
OPTION B
Course Level
Course Fee
Pay Upfront


Save 10%

Weekly Instalment Plan


Interest Free

ICI CERTIFICATE
$1611
10% Off = $1450 ENROL NOW
$49 x 32 weeks ENROL NOW
Take the first step towards becoming a masseuse today.